You can select three different statuses for a route:

Draft
If you are currently planning a route, you can select this status. Published routes in this status indicate that the route is still in progress and has not yet been travelled and that you are happy to accept tips from other Freeontour members via the comments section.

Driving
If you want to document your route with Freeontour while travelling, you are welcome to choose this status. For published routes, other Freeontour members will then know that your tour is not yet finished and they can follow your journey.

Finished
If you want to document a route that has already been travelled, use this status. For published routes, this status indicates that the route actually has been travelled as described.
You can adjust the status in the "Route" tab under the "Route settings" at any time.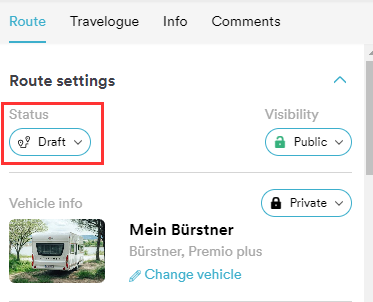 If you have entered a travel date, Freeontour will remind you by e-mail after the travel date has expired to check your status and change it if necessary. If you do not wish to receive such an e-mail notification, you can switch it off in your profile settings under "Notifications".